Trying to find the perfect gifts for women on your shopping list? It isnt always easy! I came up with the 30 BEST gifts to give to women this holiday season thatll show how much you care about her and what she likes theres something here for everyone!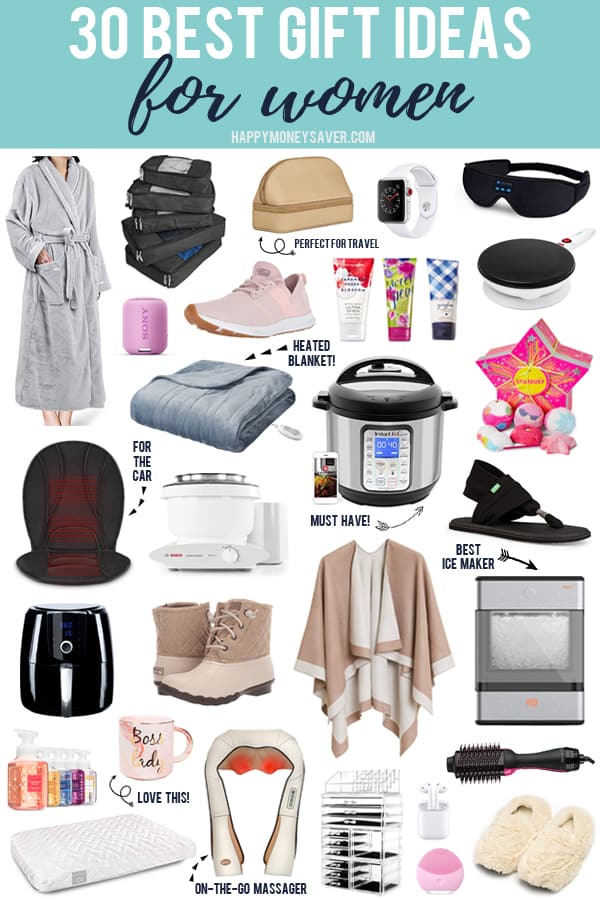 If youre looking for perfect gifts for women on your shopping list, chances are she either has everything or you just arent sure what shell really LOVE. No matter the case, these gift ideas are sure to wow her and each will absolutely be something shell enjoy using thats the best part!
Here are the best gifts for women theres something for everyone!
BEST GIFTS FOR WOMEN 2019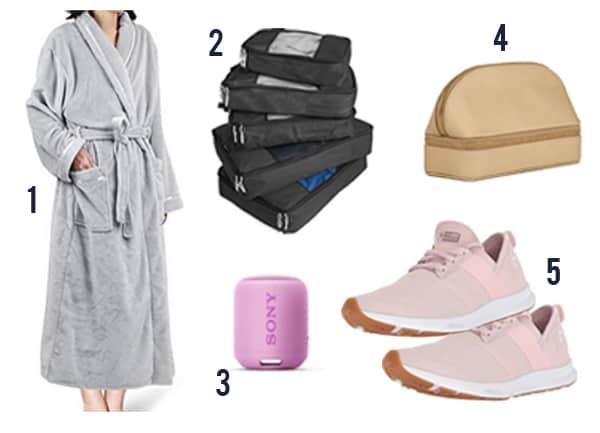 1. COZY FLEECE ROBE (Buy on Amazon | Walmart) this robe will keep her cozy and warm all winter long, and beyond! Perfect to get ready in or snuggle up in after a long day.
2. PACKING CUBES (Buy on Amazon | Walmart | Target) if she travels a lot, these are a MUST have. Packing cubes make keeping everything in your suitcase so much more organized and really helps you be more efficient. These are a great gift idea shell love!
3. BLUETOOTH SPEAKER (Buy on Amazon | Target | Walmart) whether she listens to music, podcasts, works out daily or all of the above, you can always use a great Bluetooth speaker. This is a great one and comes in a ton of color choices.
4. TRAVEL JEWELRY ORGANIZER (Buy on Amazon) while this is perfect for organizing jewelry while traveling, it also has a compartment fit for her makeup. Also comes in a ton of colors, and is a perfect gift to give for the woman who has everything.
5. PINK RUNNING SNEAKERS (Buy on Amazon) how pretty are these? Even if she has too many shoes to count, you cant ever have too many pairs and this is a must-add pair for her collection.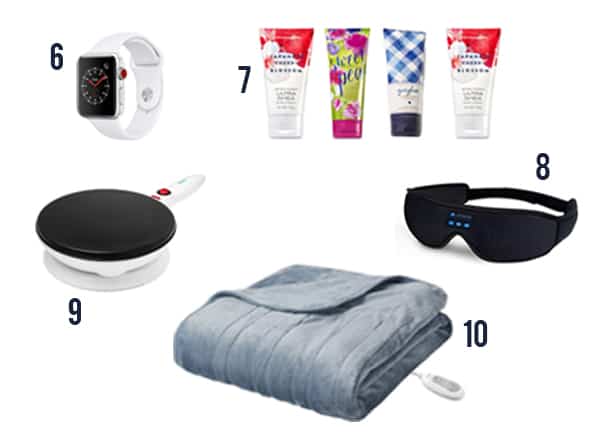 6. APPLE WATCH (Buy on Amazon | Target | Walmart) if youre looking for a gift that will really surprise her, give her an Apple Watch! They are such a fun gift and so incredibly convenient to have and use on a daily basis. Love this one that comes with the classic, versatile white sport band.
7. SCENTED BODY LOTION (Buy on Bath & Body Works) these body lotions come in, literally, a thousand scents. Theyre all incredible and you cant go wrong with any whether you want to pick a holiday themed scent or something more classic shell use year-round. Giving the gift of incredible and luxurious body lotions is the way to go!
8. SLEEP HEADPHONES/EYE MASK (Buy on Amazon) ok, this might just be the coolest gift EVER. Its basically a blackout eye mask that also has Bluetooth technology, so you can listen to music/TV/movies/etc. while wearing it. HOW COOL is that?!
9. CREPE MAKER (Buy on Amazon | Walmart) this is a super fun kitchen gadget that shell love to use on a laid back morning, or a late night snack!
10. HEATED BLANKET (Buy on Amazon) I love my electric, heated blanket and I know any woman who receives this as a gift will too! Its such a smart idea and really does keep you soo warm. This is one of the best ones, highly recommend.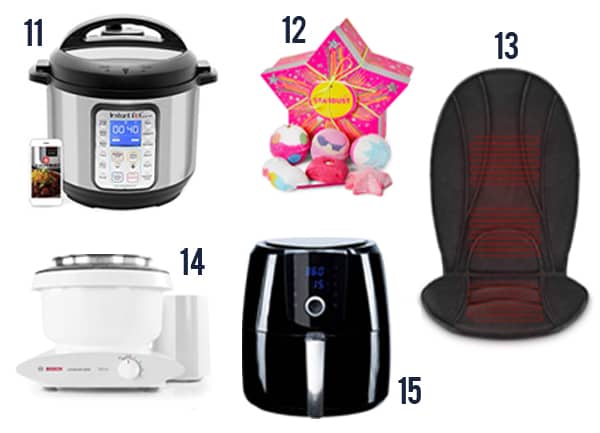 11. INSTANT POT (Buy on Amazon | Target | Walmart) this has to be THE most practical, most useful gift you could buy a woman (or anyone on your list, really). Instant Pots make cooking an absolute breeze. Theres nothing better!
12. BATH BOMB GIFT SET (Buy on LUSH) there is nothing quite as luxurious and relaxing as a bath with a fizzing, incredibly scented bath bomb in it after a long day. This gift set will help her relax and have some much needed time to herself.
13. HEATED CAR SEAT CUSHION (Buy on Amazon) I love the idea of gifting these. Whats better than a cozy, warm car in the cold months of winter?
14. STAND MIXER (Buy on Amazon | Walmart) this lightweight, easy to use (and clean!) mixer is a must for every kitchen. Its perfect for whipping, mixing, and you can even get a variety of attachments to make it the ultimate kitchen tool.
15. AIR FRYER (Buy on Amazon) love fried food but not the health part of it? Yeah, Im with ya! An air fryer is the perfect way to enjoy delicious food without the calories. A total must have.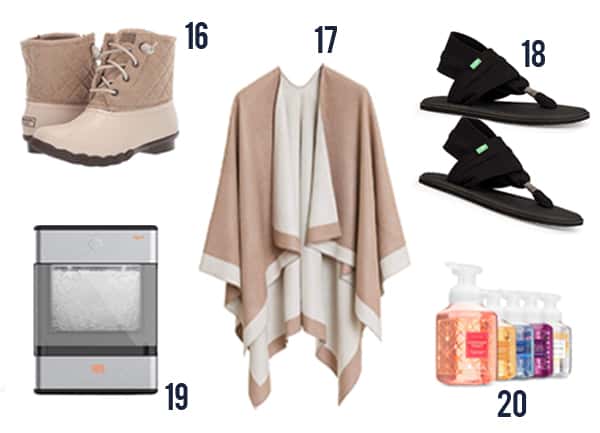 16. SPERRY RAIN BOOTS (Buy on Amazon | Walmart) how pretty are these? I love the color combo. Theyre perfect for slushy snow or rain and are SO warm on your feet. A gift shell love and definitely wont be expecting!
17. COLOR BLOCK WRAP-FRONT PONCHO (Buy on Amazon) this pretty, color blocked wrap can be worn a number of ways and the colors are so neutral, it matches everything! An affordable gift that feels and looks super luxurious.
18. SANUK SANDALS (Buy on Amazon | Walmart) these have to be the most comfortable sandals out there, for real.
19. OPAL COUNTERTOP NUGGET ICE MAKER (Buy on Amazon | Walmart) the perfect sized ice maker to sit atop a counter in your kitchen! This makes the perfect sized ice cubes and is one of those underrated gifts that she, or anyone, will just love and use more than even thought possible.
20. Hand Soap Gift Set (Buy on Bath & Body Works) these hand soaps are incredible, and some of the best scented soaps you could ever use! So many different scents and these are just some of the very best. They come in an affordably priced set and are ready for you to gift!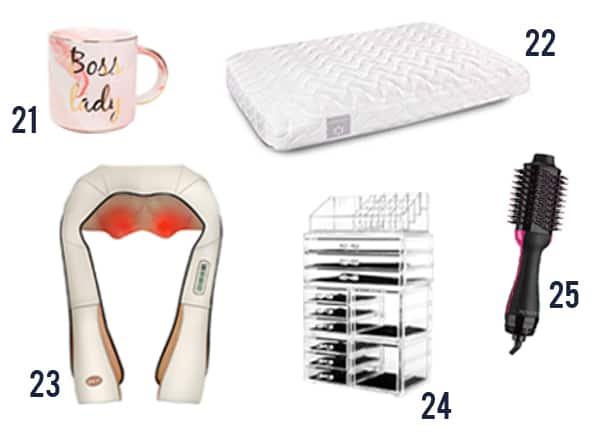 21. BOSS LADY MUG (Buy on Amazon) for the woman whose a total boss, this is a PERFECT gift.
22. TEMPUR-PEDIC PILLOW (Buy on Amazon | Walmart) these memory foam pillows make the best gifts, theyre incredibly comfortable!
23. DEEP TISSUE NECK MASSAGER (Buy on Amazon) she can take this to the office, keep it in her living room or just about anywhere else with how portable it is! Its also heated, and perfect to release tension in your neck and upper bacckc.
24. ACRYLIC MAKEUP ORGANIZER (Buy on Amazon | Walmart) these beautiful, acrylic organizers are the perfect way to store, organize and display makeup, cosmetics, jewelry and accessories!
25. REVLON HOT AIR BRUSH (Buy on Amazon | Target | Walmart) for a busy woman who likes to get ready quickly, this one-step hair drying hair brush is a perfect two-in-one. I think I need one myself!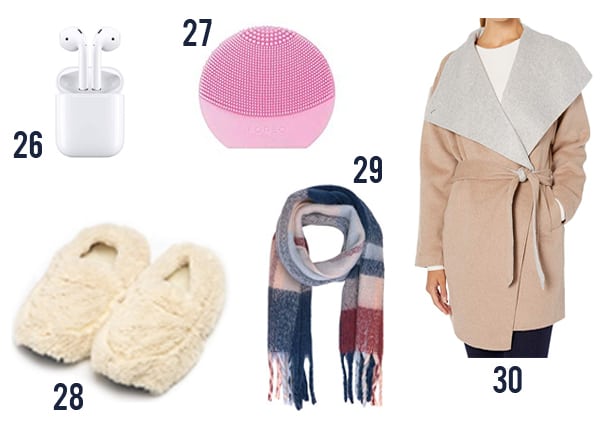 26. APPLE AIRPODS (Buy on Amazon | Walmart | Target) these have been one of the hottest gifts for a year or so now, and they still are! Theyre the best for multi-tasking purposes.
27. FOREO LUNA FACIAL CLEANSER (Buy on Amazon | Walmart) for the beauty guru, this is a must have! You put your cleanser on and use this to massage it into your face for an extra deep clean.
28. COZY SLIPPERS (Buy on Amazon | Walmart) these may look like your typical pair of cozy slippers, but theyre more You can put them in the microwave to keep your feet extra warm! How fun is that?!
29. PLAID BLANKET SCARF (Buy on Amazon) this color combo is too pretty! Perfect to pair with an everyday outfit this winter.
30. WOOL WRAP COAT (Buy on Amazon) the two-toned color combo in this coat make it so versatile and it matches every outfit imaginable. Love how expensive it looks and really, it isnt!
These gifts for women in your life are sure to be ones that shell love and will make her realize how much effort you put into them!
The post 30 Best Gifts for Women appeared first on Happy Money Saver.