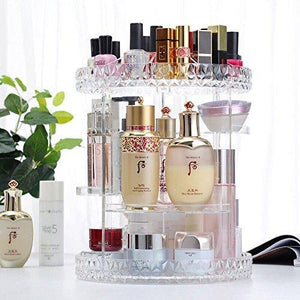 360 DEGREE ROTATION FOR EASY ACCESS TO YOUR MAKEUP, TOILETRIES AND ACCESSORIES: Now you can have access to all your beauty and skin care products within seconds, with one quick spin of this makeup organizer. The swivel carousel makes it easy to store, organize and retrieve your cosmetics and accessories. Everything you need within easy reach!
COMPACT SIZE YET LARGE STORAGE SPACE: Finding the optimal way to store your beauty products can be tricky, especially if you have limited space. This compact yet roomy makeup caddy has 4 adjustable trays and 15 compartments for your daily essentials. Instead of layering jewelry, mascara, nail polish and lipsticks on top of each other, maximize the space you have in your bathroom or bedroom.
ADJUSTABLE TRAY HEIGHT, EASY TO INSTALL AND CLEAN: The tray' height can be adjusted to fit the size of your products.To assemble or disassemble, just follow our easy-to-follow instructions. To clean, simply remove trays and wash in warm soapy water.
SOLID CONSTRUCTION AND STURDY BASE: To keep your beauty products in place and ensure noiseless rotation, the organizer has a sturdy, durable base. It's made to last for years!
ELEGANT AND STYLISH DESIGN WITH DIAMOND PATTERN: Sleek, practical and modern design will effortlessly match any decor and complement your bathroom or bedroom. Sort your lipsticks, foundation, brushes, manicure kits and skin care products in style. Makes a perfect gift for any girl, woman or a professional makeup artist.