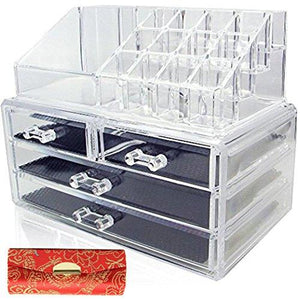 Measurements: 7.5x 9.5 x 6 Color: Clear Material: Acrylic

This also comes with one FREE lipstick case *Accessories not included*

This acrylic makeup stand contains 12 slots with 1 inch opening and 2 slot with 2 inches opening. A slot with a 4 inches long opening. 2 small drawers with 5 x 3.75 inches volume and 2 large drawers 5 x 8 inches volume.

For the top section, it come with the makeup stand measures a 5 inches wide. Slots having different size opening and are 1 to 3 (slots vary) inches deep.

Perfect for anyone that wants to save more space and be more organized.

Color : Clear
From lipsticks to brushes to even mini bottles of creams, this acrylic makeup stand will help you stay more organized and save plenty of space in your bedroom or bathroom. *Accessories not included.