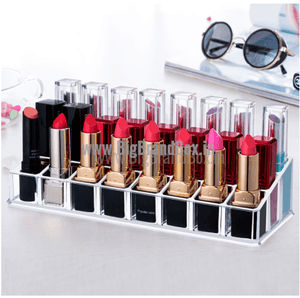 24 Grids Transparent Clear Makeup Cosmetic Organizer Storage Lipstick Holder Case Stand Tool Kit
Product Description
A 24 slot lipstick, nail polish and makeup organizer storage rack, made of best quality clear acrylic plastic.
There are three levels that provides a good view of all the items.
A wonderful gift for make-up lovers to keep all their lipsticks/nail polishes/other beauty products sorted and together.
One of the best gift for ladies.
Also See & Buy Online Complete Range of Quality & Handpicked Products in Storage & Organizer Category here: ; Get timely Delivery with Free Shipping for Orders above Rs.1,000/-. COD Payment option available. We bring Top Sellers & Internationally Designed Products only for you at