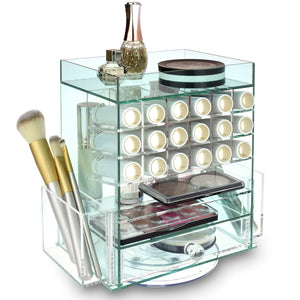 SKU: COM0302GN
Product Details
This makeup organizer helps you store and display things to be used. It has a top platform, 18 lipstick slots, 4 compartments, a bottom drawer, and 2 side compartments. It helps you keep everything in place so you don't have to dig into every drawer for your daily needed supplies.
FEATURES
Made of premium acrylic.

A top platform for bottles; 18 beveled-angled lipstick slots; 2 compartments for power or eyeshadow; a bottom drawer; and 2 sided holders for brushes or eyeliners.

Features a rotating base for you to easily browse through your daily makeup.
Size
Overall dimensions: 9 1/8"W x 7"D x 9 3/8"H