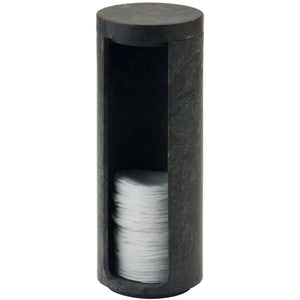 Hammam Dark Gray Makeup Organizers Round Cotton Pad Holder Jar Canister for Bath, Marble. Bringing the tranquillity and well-being of a genuine Hammam into your home is what you do with the Hammam series from Nova Bath Collection. The products from the Hammam range are handmade which makes each of them a special part of your bathroom, toilet or kitchen. The anthracite marble used for this series, mostly in combination with stainless steel, gives it a rustic and authentic appearance. With the Hammam cotton wool pad holder you no longer need to hide your cotton wool pads away; you can simply store them in this handy holder which, thanks to its sleek design and the natural stone material it's made of, is an eye-catcher for your bathroom.
- Imported from Belgium
- Material: Marble
- Color: Dark Gray
- Type: Free Standing
- Shape: Round
- Dimension: 3.1 W x 3.1 D x 7.6 H in.