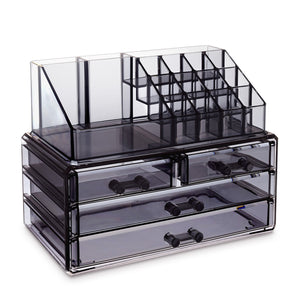 SKU: COMS2915G
Product Details
This makeup organizer helps you store and display things to be used. It has four drawers and a top rack. The perfect size to be placed on the tabletop without taking too much space while storing your jewelry, cosmetics, and other accessories.
FEATURES
☑ Made of durable PS material.
☑ Each drawer comes with a knob which helps you to slide it in and out.
☑ The organizer is uniquely designed in translucent gray. It is translucent and allows you to see through the organizer.
Size
Overall dimensions: 9 3/8"W x 5 3/8"D x 7 1/4"H