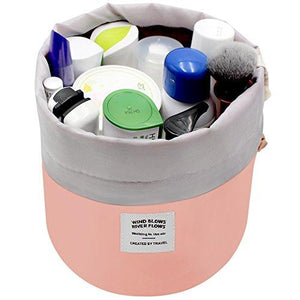 PACKAGE INCLUDEDUpgraded Cosmetic Bag+Small makeup Pouch+Clear PVC Brush Bag+Cosmetic Bags Using Manual.Travel Bag Size: 17*23 cm/6.7*9 inches. Small cosmetic pounch Size: 14*8 cm/5.5*3.2 inches. PVC Clear Bags Size: 19*8 cm/7.5*3.2 inches.

LARGE CAPACITYBuilt in 3 Mesh Pockets, 4 Elastics Straps,Autocastle Makeup Bag travel bag cosmetic bag is Convenient to Carry Toiletries, Cosmetic, Shaving,Travel Accessories and Any Other Personal Items,etc.

WIDE APPLICATIONWith Hassle-free Hanging Drawstring Special Design,This Barrel Cosmetic Bag travel cosmetic pouch make up organizer is Easy to Carry&Easy to Install,Especially Customized for Travel Train Flight Accessories to place.makeup bag, travel makeup bag, makeup organizer, suitable for both home and travel.

PREMIUM MATERIAL Made from Polyester Fiber + Waterproof Anti-Bacterial Coating,The Make up Bag toiletry bag cases organizer is Not Only Soft Padding But Also Water-resistent.Portable&Foldable&Lightweight Characteristics of the Travel Bucket Cases Makes the Packing Processure Succinctly and Efficiently.

SUPER AFTER-SALE SERVICE Unconditional Replacement If Quality Problems Occur Within One Year,Lifetime Warranty.If You Are Not Completely Satisfied with Travel Cosmetic Bags barrel makeup bag toiletry cases organizer,Then Please CONTACT us with Email freesky_car@yahoo.com. We Will Assist You Address this Issue ASAP within 24 Hours.It is Our Ultimate Goal to Offer the BEST CUSTOMER SERVICE on Amazon.

Color : Pink

Size : L

Product Description

Fish Can Not Live Without Water

We Human beings as Well:Can Not Live Without Autocastle Cosmetic Bags!!!

Trust Autocastle Makeup Bags to Promise Your Travel Life With Clean and Tidy,Efficient and Succinct.

As people travel more and more ordinary, cosmetic bags are increasingly Vital for people to pack cosmetics, Toiletry Jewelry Digital and travel accessories.There is no doubt that Autocastle Cosmetic Bags with Premium Quality to Be Your Best Choice.

Product Specifications
Color:Pink/Blue
Brand:Autocastle
Product Name:Barrel Cosmetic Bag
Product Size:17*23 cm/6.69*9.06 inches
Material: Polyester fiber+Anti-Bacterial Coating+PVC backing

Package Included:
Makeup Bag
Small Pouch
Clear PVC Brush Bag

Features:

Made from High Quality Material of Polyester Fiber with Waterproof Anti Bacterial Coating,Cosmetic Bag is Foldable/Portable/Lightweight.

Hanging Drawstring to Save Space:Suitable for Both Home and Travel,Make-up Bag Packing Personal/Household/Travel Items Efficiently and Quickly.

Convenient to Use:Built in 3 Mesh Pockets, 4 Elastics Straps,This toiletry Bags is Super Easy to Carry&Easy to Install.

Wide Application:Large Capacity of the Makeup Bags is convenient to carry lots of Cosmetics Makeup Brushes Toiletry Jewelry Digital accessories and your personal items,etc.

Perfect Gift Ideas Ever:Upgraded Cosmetic Bag is Ideal Gift to Men Women Girl Kids.