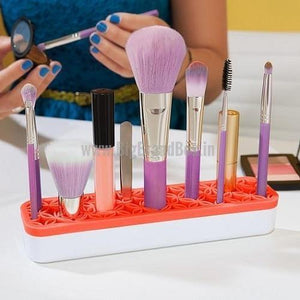 Cosmetic Silicone Stand
Product Description
Small Stature, Large Capacity: large Capacity Holder easily helps to organize so many beauty essentials in this Small Stature silicone holder.
This makeup organizer has plenty of room to store and organize your entire cosmetic collection. 
It is also convenient to yoyr beauty essentials for travel.
Cosmetic Makeup Organizer 2.size: 8.3*1.3*2 inches 4.order model: mix order. Cosmetic Makeup silicone box for brush lipstick, pencil.Makeup.