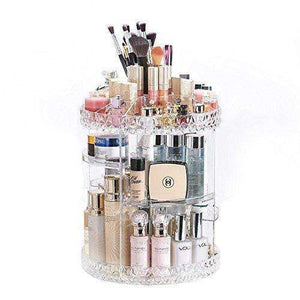 DreamGenius Makeup Organizer 360-Degree Rotating Adjustable Multi-Function Acrylic Cosmetic Storage -

Brand: DreamGenius
Color: Clear
Features:
360 DEGREE ROTATION: Steady base rotates smoothly and silently. Easy to find all of your makeup products. Clear and transparent design matches any decor.
6 ADJUSTABLE LAYERS: Allow you to adjust the height of the tray to accommodate different types of cosmetics and containers in all shapes and sizes.
LARGE CAPACITY: Top compartment is good for nail clippers, brushes. Middle layer skincare bottles, perfume bottle, washes. Thick and durable trays are strong enough to bear heavy products.
EASY TO ASSEMBLE AND WASH: Easily install according to the instruction. It can be removable and very easy to carry out. PS Material can be washed and easy to clean. It will not change shape.
100% SATISFACTION GUARANTEE: you can have peace of mind. If for any reason you're not completely happy with your purchase- if it breaks, if it's damaged in shipping, or even if you change your mind - simply let us know and we will either replace it or refund your money, your choice!
Publisher: DreamGenius
Details: Customer service:
100% satisfaction guarantee gives you peace of mind to place the order. Simply let us know and we will either replace it or refund according to your choice!

Instructions:
Insert one of the 2 partitions into the base plate.
Insert the other partition into the base plate.
Secure the bottom joints with rubber rings.
Insert the 4 trays into partition slots according to your preference.
Insert the top plate into partitions.
Secure upper joints with rubber rings.

Specifications:
Dimension: 10.6x10.6x13.7 in
Weight: 3.7lb

Notice:
Cosmetics are for display purposes only and not included.
Wipe down with a damp cloth.

Including 2 partitions, 1 top plate, 1 base plate, 4 trays. 16 rubber rings.
UPC: 798220645100
EAN: 0798220645100
USD price as of publishing date listed on our website-