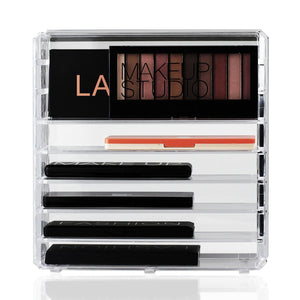 Ps

Keeps clutter away on the vanity, counter top, work desk, etc. by keeping everything in one place and fast and convenient to use. Dimensions: 9 3/8 x 6 x 16 Inch

Made of Premium quality acrylic, a high quality shatter resistance safeguards against injury and damage. It is thicker and more durable than the typical acrylic makeup storage boxes, jewelry cases, and organizers

4 pieces set with a 12 lipstick compartment organizes all jewelry and cosmetics in one place. make it possible to be arbitrarily combined

Removable mesh liner keeps jewelry protected; Drawers operate smoothly; Won't absorb color, easy to clean with water; ideal gift for wife or daughter

100% satisfaction guarantee,If for any reason you're not completely happy with your purchase- if it breaks, if it's damaged in shipping, or even if you change your mind - simply let us know and we will either replace it or refund your money, your best choice!