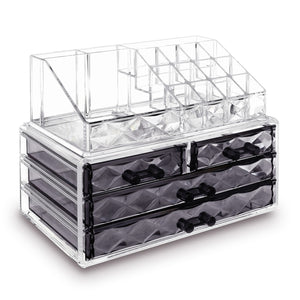 SKU: COMS4497BK
Product Details
This makeup organizer helps you store and display things to be used. It has four drawers and a top rack. The perfect size to be placed on the tabletop without taking too much space while storing your jewelry, cosmetics, and other accessories.
FEATURES
☑ Made of durable PS material.
☑ Each drawer comes with a knob which helps you to slide it in and out.
☑ The organizer is uniquely designed in clear and comes with black drawers. It allows you to see through the organizer to search for your wanted product without looking all over the drawers. The diamond pattern even adds more elegance and distinctness to the organizer.
Size
Overall dimensions: 9 3/8"W x 5 3/8"D x 7 1/4"H