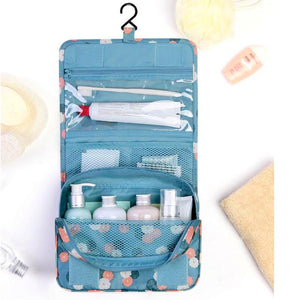 Makeup Organizer & Travel Toiletry Bag
Bathroom visits during a trip can be anxiety-ridden as your shampoo bottle rolls one way and your toothbrush falls to the floor. To keep all your essentials organized and your bathroom trips stress-free, the Art of Travel has developed a personal organizer to save the day.
The Art of Travel makes this medium-sized toiletry bag exclusively for all the travel lovers seeking peaceful showers. All of your daily essentials will fit neatly into this organizer. The design and colors are the results of years spent perfecting this bag. We continue to explore ways to refine and improve our products.
For this bag, we have added innovative side-zip storage pockets for quick-and-easy access.
Product Features 
Hinged design and a built-in hook that allows you to hang it anywhere
There are a variety of different sized pockets, depending on your needs. 
Two upper zip pockets keep travel-sized bottles in place and prevent them from spilling. 
The main compartment has multiple soft mesh pockets.
Removable mirror and shower caddy included.
Why Customers Love It
The bottom line is that this bestselling toiletry bag is both useful and durable. Plus, the pockets are strategically placed to make organizing your luggage fun and stress-free.
Product Type: Personal Organizer Toiletry Bag
Material: Polyester 
Size: 24cm X 18.5cm X 9.5 cm