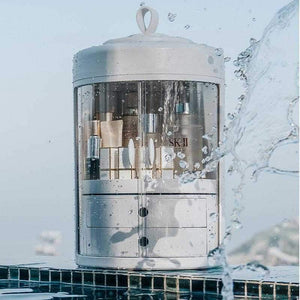 Features: 
1.Detachable, portable drawer design
2.Dustproof: The top cover has dustproof effect.
3.Easy:The drawer and the flip cover have a handle design for your convenience.
4.Capacity is big: can put a lot of make up things, save a space
5.Layered storage, preferably environmentally friendly and safe materials

Specification:
Type: Jewelry & Makeup Storage
SKU: HSJMS0010
Material: Plastic
One-size: 24.5 x 40 cm
Color: White,Pink,Grey
Style: Simple and Modern
Pattern: Plain
Function: Dustproof
Application: Table, Bedroom, Bathroom, Drawer, Bathroom, etc.